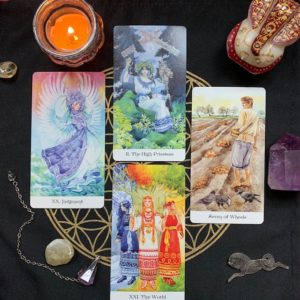 Fall is upon us here in the Northern Hemisphere, and it is a perfect time to slow down and go within to reflect on where we've been and where we are going. It is said that the veils between the inner and outer worlds are thinner now, so we can dive deep, and tap into what lies at the heart of things. It's also an ideal time to connect with our ancestors, and to ask for their guidance.
Perhaps you'd like to book a Tarot reading? I am offering a "Scorpio Special" for the month of November!
This is a 30 minute Zoom reading for $30 CAD. This includes taxes, a recording of our session, and a beautiful photo of the cards that show up for you.
Tarot uses archetypes, imagery and colour as a mirror of our inner state. We choose the cards together in a meditative state, and they reflect your intuition, emotions and inner knowing.
A reading is like talking to a loving friend, who tells it like it is with clarity and kindness. You'll feel seen, heard and refreshed after a reading.
Contact me at karusia@shaktiflow.com with any questions, or to book your reading.